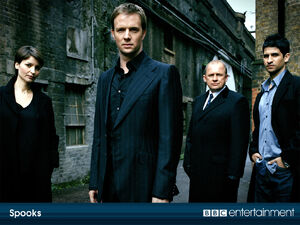 New pages
Spooks is a programme about a fictional group of MI5 spies who put their lives on the line on a daily basis in order to combat terrorism
Spooks has completed its last series and now is finished.
For detailed information about Spooks, visit The Spooks Wiki
Spooks is a BAFTA award-winning British television drama series produced by the independent production company Kudos for BBC One. The title is a popular colloquialism for spies, as the series follows the work of a group of MI5 intelligence officers based at the service's Thames House headquarters, in a highly secure suite of offices known as The Grid. In the United States and France, the show is broadcast under the title MI-5. In Canada, the programme originally aired as MI5 but now airs on BBC Canada as Spooks.
The programme was created by writer David Wolstencroft and has attracted popular guest actors including Hugh Laurie, Tim McInnerny, Bruce Payne, Ian McDiarmid, Jimi Mistry, Andy Serkis, Andrew Tiernan, Anton Lesser, Alexander Siddig and Anthony Head.
Ad blocker interference detected!
Wikia is a free-to-use site that makes money from advertising. We have a modified experience for viewers using ad blockers

Wikia is not accessible if you've made further modifications. Remove the custom ad blocker rule(s) and the page will load as expected.