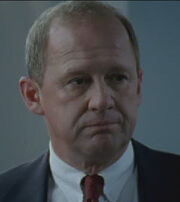 Sir Harry Pearce (Henry James Pearce; born 1 November 1953) is the fictional head of the Counter-Terrorism department ("Section D") of MI5, featured in the British television series, Spooks (known as MI-5 in the USA). Pearce has been played by Peter Firth since the series began in 2002.
Career
Prior career
After attending the University of Oxford, Pearce went to the Royal Military Academy Sandhurst before joining the Light Blue Dragoons. Upon leaving the army, he joined MI5, where he completed his training in June 1977. His first assignment at the service was to A Section, in Northern Ireland, where he was an agent handler during the Provisional IRA's campaign against the British state, until his close colleague Bill Crombie was kidnapped and killed in August 1978. Pearce was then seconded to the Secret Intelligence Service (aka MI6), where he was stationed in Paris, under Juliet Shaw. During this time he worked in Iran, where he committed adultery with Shaw. His wife Jane's discomfort in Paris led the couple to move to Cologne before the end of February 1979. In Cologne, he worked against the left-wing terrorists the Red Army Faction, and undertook a black op with only C's knowledge, before his secondment ended in November 1979.
On his return to MI5, Pearce was assigned to Section D, the Counter-Terrorism department (then at Gower Street), where he was a junior field officer. During his time as an officer, he saved the lives of two Prime Ministers (Thatcher and Major). Pearce was promoted to senior field officer between October 1986 and December 1988, and appointed to his current role in January 1994
As Head of Section D
Edit
In Episode 2 of Series 7, Harry, through Lucas North, manages to frame Arkady Kachimov, the FSB resident in London, as an MI5 mole. Under cover of providing him protection, Harry and Ros meet with him, but Harry shoots Kachimov in revenge for the death of Adam Carter.
In Episode 3 of Series 7, Harry learned from Lucas North that Russian intelligence interrogated him about an operation called Sugarhorse. Harry contacts his mentor, Bernard Qualtrough, a retired spy to consult him about who could have been a mole within this highly classified operation.
In Episode 8 of Series 7, After negotiating with the head of FSB operations in London to not kill his officers as they attempt to diffuse a nuclear bomb about to obliterate central London, he is captured and shown with his mouth taped and being zipped up in a body bag, with a helicopter in the background. The episode and the series ends on this cliffhanger.
In Series 3, Pearce was revealed to be divorced, with two children. It had been previously mentioned that he had not told his wife what his profession was until their wedding day (15 June 1977). He met his wife, Jane, an English teacher by career, during their studies at Oxford. They had a daughter, Catherine, on 25 April 1980, followed by a son, Graham, on 18 June 1983, before "Jane filed for divorce, citing irreconcilable differences" in October 1986. At some point between the divorce and her on-screen appearance, Catherine changed her surname to her mother's maiden name, Townsend. It is also stated in Series 7 Episode 7 that Jane suffered from depression.
While his ex-wife and son have never appeared on screen, Pearce's daughter, portrayed by Caroline Carver, appeared in Series 3, Episode 4 — at the start of the episode he regarded her as emotional and as one to "spot a bird with a broken wing", but in the course of the episode's events, he shows how deeply he cares for her and has grown to respect her intelligence. At the beginning of the same episode, Pearce mentions that "it was her brother who got the brains", although it is stated later in the episode that this brother, Graham Townsend, has not succeeded in life. It is also stated in Series 7 Episode 7 that Graham suffered a drug addiction.
Relationships
Edit
He did however have a budding relationship with Ruth Evershed, another one of the main characters and over the years it did appear that they were forming a strong bond. At the very beginning of series 5, he realised that he was in love with her. Their relationship was brought to a head in series 5, when he worked up the courage to ask her to dinner by episode 3, but 2 episodes later she is forced to leave the country and the series. During their final goodbye Harry was about to reveal his love to Ruth, but she urged him to leave things unsaid, they then kissed and she left.
In Series 6, Episode 3, Harry receives a letter from 10 Downing Street, informing him that The Queen wished to bestow a knighthood upon him. Which form of knighthood is not specified. He already held a CBE.
Reception
Edit
The character is considered by many fans to be the pillar of the show, providing both a backbone to the team and is often the cause of many of the comic relief situations present in the series, most notably in his exchanges during series 1 with Jools Siviter, played by Hugh Laurie. He is well respected by his colleagues. He has thus survived two cliffhangers where he appeared to be about to be killed (series 2 and series 4 respectively).
He is currently only one of two characters remaining from the first series, the second being Malcolm Wynn-Jones.
Pages in category "Sir Harry Pearce"
This category contains only the following page.