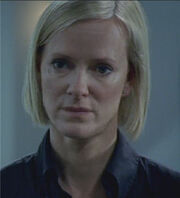 Rosalind "Ros" Sarah Myers is a fictional Section Chief of the Counter-Terrorism department at the Security Service (MI5), featured in the British television spy drama, Spooks, which is broadcast under the title MI-5 in the United States. She joined the team at the start of Series 5. She is played by Hermione Norris.
Series 5
Edit
Ros was originally an MI6 officer, her father was Sir Jocelyn Myers, a wealthy diplomat who was part of the conspiracy led by Ros's MI6 boss, Michael Collingwood, to force the Prime Minister to sign a special measures act which would allow Collingwood and his cohorts massive power in Britain, to lock people up without trial and to use armed police to prevent any civilian protests.
Ros decided that Myers and Collingwood's plot was not good for the country and warned Adam Carter and Harry Pearce to abandon their car after a meeting with Collingwood. The Home Secretary, Nicholas Blake and the National Security Co-Ordinator, Juliet Shaw were warned of a bomb in the car that they were leaving the meeting in just moments before it exploded. Ros managed to prevent the deaths of the car driver, Blake and Shaw but Shaw was supposedly paralysed. Ros helped Section D to bring down Collingwood's plot and joined the team at the end of Episode 2 of Series 5.
Series 6 and Brief Departure
Edit
She left the show during Season 6, episode 8. Ros was seen with Ana Beauchay A.K.A Magritte by Kaplan and although he had inadvertently saved her life, Ana convinced her that she would have to kill him with an injection that would be quick and untraceable otherwise her place at MI5 would be in jeopardy, and Yalta's plans destroyed. She went after him, but he reached Jo and told her. Harry and the team had discovered Ros's betrayal but she decided to turn herself in and headed directly to the Grid. After being interrogated by Harry, she became a double agent, except this time, she was spying for MI5 to make up for her treachery.
She went to their headquarters while Adam and Harry followed closely behind. Ros was captured by Yalta, a secret organisation planning to bring America's weapon and military capability grinding to a halt claiming it was to prevent a war, on her way to save Harry. However, she was captured and injected with a lethal poison by Juliet Shaw (ironically by the same poison which she would have had to use to kill Kaplan earlier on). She died as Harry watched in horror as the members of Yalta left. A squad soon arrived with Malcolm and Jo, who looked across the room and spotted the dead Ros.
At her funeral, the team grieved. Once they've left the chapel (and Bob Hogan has checked the body to make sure she's dead), Adam injects her with an antidote - he had in fact switched the serum Juliet used on her with a sedative which feigned the appearance of death. She awakes, but because Adam knows Yalta would hunt her down if they knew she was alive, he sends her off with a passport, some money and clothes. They share a tearful goodbye. Adam then joins everyone outside in the courtyard to mourn with the others. Jo sheds a tear, but out of the corner of her eye, she sees Ros walking off and, glad that Ros is safe, she smiles and looks at Adam.
Throughout the sixth series, Hermione Norris was heavily pregnant, and announced in November 2007 that she would return to filming for series of Spooks in March 2008.
Series 7
Edit
In Episode 1 of the seventh series Ros was operating as "Rangefinder" in Moscow, bringing intelligence back to London which revealed the true nature of the November 11 attack during that episode. She attempted to shake off the Russian car following her, but then lost patience, got out of her car to get to the attack site and physically assaulted and defeated her Russian pursuer in the square outside the London Guildhall. Arriving at the attack site, she briefly met Adam before he died in driving a car-bomb away from the Remembrance Day service being attacked. In the following episode she asked Harry to let her replace Adam as head of Section D, stating that Adam's death had not affected her, though shortly afterwards she took out her anger on the flat she was staying in. She then returned to work in a reasonably calm fashion and at the end of the episode was confirmed by Harry as the new Section D head.
Pages in category "Ros Myers"
This category contains only the following page.