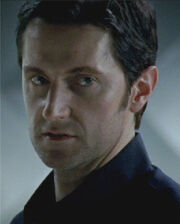 Lucas North is a character who first makes an appearance in Spooks Series 7, and is played by British actor Richard Armitage.
Character Overview
Edit
Lucas, a former protégé of Sir Harry Pearce, has spent the last 8 years in a Russian prison. At the beginning of series 7, Harry manages to secure North's release in a spy swap.
The other members of the grid, including Harry, call his loyalty into question. They have concerns over the relationship he built with Russian Intelligence Services (FSB), Arkady Kachimov (Stuart Wilson), while under imprisonment.
North's personality appears to be divided between who he was prior to incarceration, and who has become since. He has been forced to endure torture and hard labour. Lucas had thought Harry responsible for his ordeal, but in the last episode of series 7 Connie James confesses to having blown his cover and thereby being responsible for his imprisonment. However, as evidenced by a subsequent exchange between Ros and Lucas, it isn't clear whether Connie's revelation can be accepted as the truth or whether it was an attempt in her last moments to make things better.
The life this character once knew does not exist any more, but he aspires to regain some of his former glory. However, he still longs for his Russian ex-wife, Elizabeta Starkova, played by Paloma Baeza.
In episode 6 of series 7, Lucas tells the teenage boy he is protecting that he grew up in the country and that his father was a Methodist minister.
The character has multiple tattoos, including eight onion domes bearing the three barred cross of the Russian Orthodox Church, one for each year of his incarceration. The words "Gnothi Seauton", translated as "Know Thyself", are across his stomach, and "Dum Spiro Spero" meaning "While I breathe, I hope" across his shoulders. His chest tattoo is based on William Blake's watercolour etching Ancient of Days.
Other evidence of Lucas' love of or obsession with Blake: He decorates his flat with Blake's paintings, when questioned by Arkady Kachimov about Lucas' love of Blake, Elizabeta says that Lucas is a devotee of Blake, because like him, Lucas distrusts systems.
Pages in category "Lucas North"
This category contains only the following page.