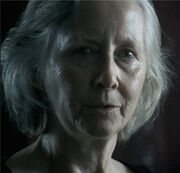 Connie James was a fictional British spy in the BBC series Spooks, played by Gemma Jones.
She was first seen in Series 6 Episode 2 (brought in as a regular female lead character to replace Ruth) as an old colleague of Harry Pearce's, now retired from MI5 and living as the caretaker of a secret former nuclear bunker with biological/chemical weapons testing pods, whom Harry visits in order to use these pods.
She was instrumental in assisting the Team in her technical role and uses her skills to resolve situations.
In the seventh episode of season seven, Connie was revealed to be a double agent working for the Russians. She attempted to frame Harry Pearce and kills Ben Kaplan using a blade hidden in her bra to slice his throat. She was arrested, trying to escape, by Ros. In the last episode she was killed saving her country from the threat of nuclear attack from the Russians.
She was snatched during a section D black op when the team had news that a large scale terror operation was being run by the Russians codenamed operation Tiresias, to launch a nuclear assault on London using portable nuclear devices. She demanded that the bomb was brought to her, where she removed the radioisotopes, preventing a nuclear cascade, before the conventional detonater exploded in her face. The impact of the blast killed her immediately.
Before she died, she revealed to Lucas North (Richard Armitage) that it was she who betrayed him 8 years previously when he was in Russian custody. However, whether this was true, or whether this was a final act of kindness to help Lucas leave his anger at Harry behind, is yet to be revealed.
Pages in category "Connie James"
This category contains only the following page.