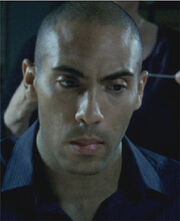 Ben Kaplan DSO, portrayed by Alex Lanipekun was a starring character in the British spy series, Spooks.
http://
Ben Kaplan first appeared in Series 6, Episode 5 as a freelance journalist who was in a relationship with Jo Portman. He tried to expose what was going on with MI5's and Section D's activities in stopping terrorism. During the crisis in which three important diplomats (the Iranian Special Consul Dariush Bakshi, the British Foreign Secretary Ruth Chambers and the CIA's London liaison Bob Hogan, all guests on the TV panel of Ask the Question) are held hostage along with the audience, Ben helps Adam Carter and Ros Myers free the hostages. He is offered a role in the team by Adam but refuses.
However, by the start of Series 7, he is working for Section D, replacing deceased agent Zafar Younis. He operates in the field, helping Section D to prevent a Russian attack on London and stop Al-Qaeda terrorism attacks. He goes undercover in the financial markets with Lucas North to stop a financier who is planning to ruin the British economy and help protect a 16-year-old boy targeted for assassination by a rogue MI6 officer.
In Series 7, Episode 7, Section D's boss Sir Harry Pearce is accused of being an FSB mole who has been passing secrets from MI5 regarding Operation Sugarhorse (Sugarhorse being a high level operation in the 1980s whereby pro-western people were placed into Russian society to find out about Russia's nuclear capabilties). Some of the section's contacts were assassinated; Harry sent Lucas to Moscow to find an asset, who tells Lucas to find a package in a bar.
When Lucas finds the package, it shows a photo of Connie James, Section D's analyst, and Bernard Qualtrough, Harry's mentor, and proves that Connie is really the mole in MI5, not Harry. Lucas calls Ben and tells him this. Ben stashes a form he finds in the paper archive proving that Connie is the mole, but Connie appears in the paper archive to assist Ben in finding the form. Connie sees Ben put the form into his pocket.
Before Ben can leave the archive to warn Ros and the rest of the team, Connie uses a garrotte wire to slit Ben's throat, taking the form from his pocket as he dies in a puddle of his own blood. Ben's dead body is found later by the team. Ros arrests Connie, and Harry recommends to Home Secretary Nicholas Blake that Ben, for all of his contributions to MI5 and Britain, should be given a Distinguished Service Order.
Pages in category "Ben Kaplin"
This category contains only the following page.